The Lea Singers is a friendly, dynamic, high quality, amateur chamber choir of around 30 singers with a strong sense of community, based in Harpenden, Hertfordshire – a 30 minute train ride from London St Pancras.
We celebrate our 60th anniversary this year, and have worked with 12 musical directors in our first 60 years. The choir has a happily established core membership, supplemented by talented young local singers who broaden their choral experience through our thriving interns scheme. Our age range is from 17 to 70. We sing for pleasure, to escape the stresses of everyday life, and enjoy singing to a high standard. Entry is by audition, and we normally re-audition every two years.
Rehearsals take place on Wednesday evenings at St George's School, Harpenden. Although a piano is available, we typically rehearse without an accompanist, bringing in rehearsal pianists for larger choral works.
Our performance programming aims to strike a good balance between challenge and fun, for singers and audience alike. We thrive on variety: the challenge of learning new or demanding works; simple pieces, beautifully performed; repertoire from baroque to swing; the occasional commission; mixing up parts during rehearsals to build blend and independence; singing in different languages; occasionally performing from memory. Our concerts are a mix of a cappella, with piano or organ accompaniment and with orchestral accompaniment.
A typical season's programme (starting in September each year) comprises two more serious concerts, in the Autumn and the Spring, a lighter Christmas concert where we raise money for a local charity and a lighter summer event. In addition, we aim to spend one weekend away each season singing services at a cathedral (recently at Durham, Norwich and the Royal Naval College, Greenwich), and have a strong relationship with St Albans Abbey. Our seasons often include a community event – an open singing day or a collaboration with a local school. By way of illustration, our programming for the calendar year 2019 is included below.
Every few years (when funding allows), we take on a big project. A particularly memorable one was a semi-staged St Matthew Passion in St Albans Abbey in 2016. We learnt the choruses and a selection of chorales from memory, worked with Tom Guthrie on staging, movement and dramatisation, and performed with an awe-inspiring cast of professional singers and players, including James Gilchrist as The Evangelist.
The choir is a registered charity, and is run by a hard-working, enthusiastic management committee. Our singers contribute a wide range of useful skills to the running of the Choir, including concert management, high quality publicity material and programmes, strong local and online PR, financial management and maintenance of our website.
Like all groups, the COVID pandemic has disrupted our activities over the last two years, but the Choir's "can do" attitude and the committee's perseverance have kept us together. Despite having to cancel and re-plan many events, we have kept singing, recruited talented new singers and interns and learned how to replicate at least some of our activities online. For the last two years we have produced a digital advent calendar which has connected us to friends and family near and far and raised money for charities chosen by the Choir. We were delighted to be able to sing our first live concert for two years at Christmas, in Harpenden's brand new Eric Morecambe Centre, to an enthusiastic audience.
A Typical Year's Programming
March 2019 – St Nicholas Church, Harpenden
Alec Roth A Time to Dance
Bach Magnificat
Professional soloists and orchestral accompaniment; Alec Roth present at the performance.
April 2019 – St George's School, Harpenden
Open Singing Day with Bob Chilcott
June 2019 – The Academy Residences, St Albans Summer Concert
Berlin Let's Face The Music; Miller Chatanooga Choo Choo; Makaroff Butterfly; Gavelin / Nilson Hall Mig Kvar; Mendes Mas Que Nada; Jobim One Note Samba
October 2019 – Durham Cathedral Weekend of services
Vierne Messe Solennelle; Rachmaninov Bogoroditse Devo; Alec Roth Hatfield Service; Jonathan Dove Seek Him That Maketh the Seven Stars
November 2019 – Notre-Dame – Rising in Song – St John's Southdown, Harpenden
Double organ concert to explore French music.
Perotin Viderunt Omnes; Vierne Messe Solenelle; Bruckner Os Justi ; Duruflé Ubi Caritas ; Mealor Ubi Caritas ; Ravel Trois Chansons ; Castagnet Messe Salve Regina ; Jonathan Dove Seek Him that Maketh the Seven Stars
December 2019 – FestiveLea – Harpenden Public Halls
Our popular community concert in aid of a local charity: choral favourites serious and not-so-serious; audience carols; organ accompaniment
Lea Singers Musical Director - Overview of the role
To prepare for the appointment of a new musical director, we surveyed the Choir to understand their priorities. Above all, we are looking for a talented, experienced choral trainer and vocal coach, who can demonstrate enthusiasm for a wide range of repertoire and inspire and equip us to give high quality performances. We want to work with someone who makes every rehearsal fun and challenging, whose commitment matches ours (and who demonstrates this through strong organisational skills), and who engages well with the Choir.
The Leas recent musical directors – Victoria Longdon, Benjamin Goodson and James Sherlock – have all joined us close to the beginning of their careers, stayed for around five years, and given us wonderful experiences of developing with them before they moved on to progress their careers. For this appointment, we consciously welcome a diverse range of candidates, and expect our new musical director to see the Leas as a minimum 3-5 year commitment.
Main Duties and Responsibilities
Conduct 6-8 events per year, lead c.42 Wednesday evening rehearsals (with two week breaks at Christmas and Easter, half term breaks in the autumn and summer terms and a longer summer break); attend 3-5 committee meetings per year, mostly virtually
Propose (in a timely manner, with sensitivity to budget implications) imaginative and engaging concert programmes with broad audience appeal, which will develop the Choir
Recruit soloists and accompanists; organise a deputy conductor in the event of missing a rehearsal; help with choir deps where necessary
Plan a rehearsal schedule to ensure that the Choir is prepared, confident and able to give exceptional performances for our audiences (including sending a weekly practice email to the Choir)
Lead the musical and technical development of the Choir; re-audition existing singers every two years, with the aim of encouraging their personal development as individual singers and advising them on areas for improvement
Contribute to attracting new singers to the Choir and run auditions for potential new singers, where there are vacancies.
Technical Skills, Qualifications and Experience
A talented conductor and singer with exceptional conducting, choir training and vocal coaching skills 
Demonstrable experience of conducting a similar choir (in terms of size, standard and repertoire)
Experience of working on a diverse range of repertoire, from church music to swing; comfortable working with a wide range of vocal styles and languages 
Well networked, with the ability to attract soloists, players and new choir members
Good keyboard skills; comfortable leading rehearsals from the piano where appropriate
Flexible and adaptable, particularly in light of the choral world's recent experiences during the pandemic
Not over-committed to other choirs and ensembles.

Motivating, professional, dynamic, encouraging and enthusiastic: a dedicated choir trainer with the ability to make rehearsals productive and enjoyable
Creative, charismatic and ambitious: a source of good ideas to move the Choir forward
Reliable and organised: an asset to the running of the Choir
Calm and confident leadership style: able to inspire confidence in others and maintain authority
A talent for musical detail: able to work constructively with the Choir to improve accuracy and blend and deliver high standards of performance
An articulate, fluent and persuasive speaker: able to communicate well with the Choir and our audiences
A sense of humour and a sense of fun: comfortable socialising with the Choir.
Remuneration comprises rehearsal fees, concert fees and committee attendance fees, and is paid monthly in arrears.
Application Process and Timetable
Candidates are requested to send a copy of their CV, plus a covering letter which addresses the following points
Why you think you would be a good fit for The Lea Singers
A brief initial sketch (100-300 words) of programming ideas for a whole season
Names and contact details for two referees.
Applications should arrive no later than 1pm on Friday 11 February 2022. They should be sent to Anne-Marie Kramer, Lea Singers Chair, at [email protected]. If helpful, Anne-Marie is happy for potential applicants to contact her for an informal chat before submitting a formal application.   
All applications will be acknowledged by email: shortlisted candidates will be informed by mid-February 2022.
Shortlisted candidates will be invited for a panel interview, preferably on the weekend of 26 February 2022. Some or all of the shortlisted candidates will be invited to rehearse with the Choir on Wednesdays
16, 23 or 30 March.
We hope to have our new conductor in place between Easter and Autumn 2022.
Anne-Marie Kramer, Lea Singers Chair – January 2022
Appendix 1 - Lea Singers Performance Dates
Saturday 12 March 2022 7.30pm: Rachmaninov Vespers – Lady Chapel, St Albans Abbey
Saturday 21 May 2022 7.30pm: Brahms Requiem – St Nicholas Church, Harpenden
Sunday 10 July 2022 5pm: 60th anniversary concert and party – Bennet's, Harpenden
Saturday 27 and Sunday 28 August 2022 – Ely Cathedral weekend services
Saturday 22 and Sunday 23 July 2023 – St David's Cathedral weekend services
Appendix 2 - Extract from Choir Survey - January 2022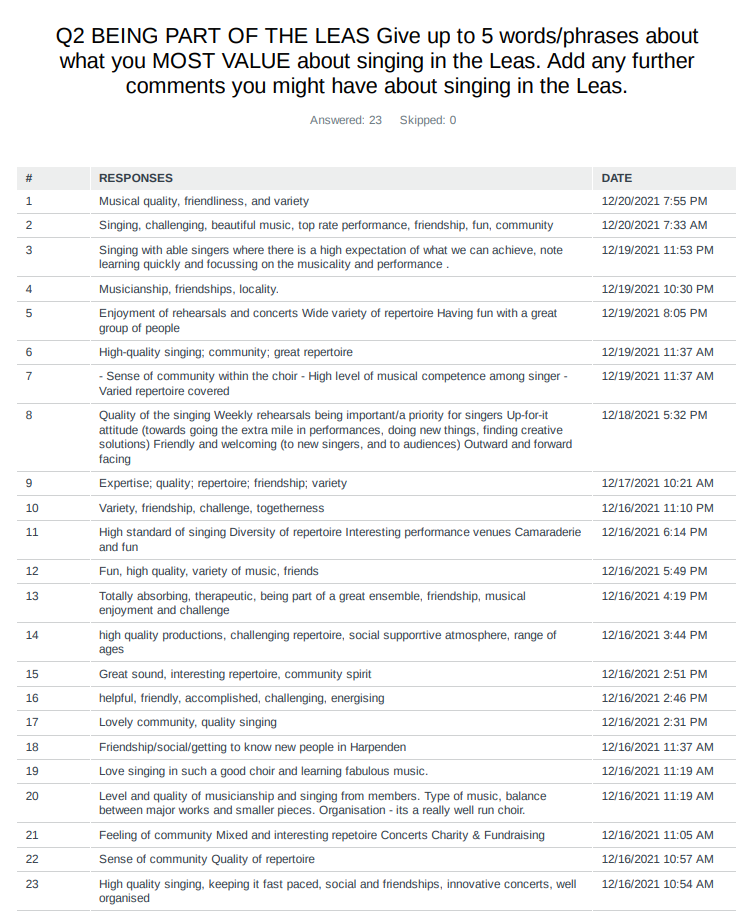 Appendix 3 - Some Recently Performed Works
Allegri – Miserere
Bach – Lobet den Herrn, Matthew Passion (semi-staged, directed by Tom Guthrie, Feb 2016)
Bernstein – Chichester Psalms
Brahms – Requiem, Geistliches Leid, Wie lieblich sind deine Wohnungen
Britten –  A Ceremony of Carols, Flower Songs, Hymn to St Cecilia
Bruckner – Motets
Byrd – Motets, Mass in 4 parts
Jonathan Dove – The passing of the year
Duruflé – Requiem
Dyson – The Blacksmiths
Ēriks Ešenvalds – Only in Sleep
Fauré – Requiem, Cantique de Jean Racine
Finzi – Lo, the full final sacrifice
Peter Foggitt – The permanence of the young men (world premiere, 2018)
Gabrieli – Jubilate Deo
Haydn – The Creation, 'Nelson' Mass
Howells – Requiem, Take him earth for cherishing, Mag & Nunc, Like as the Hart
Alexander L'Estrange – Vive la vélorution collaboration with Beechwood Park School
James MacMillan – Miserere
Martin – Mass for Double Choir
Monteverdi – Vespers (with I Fagiolini as soloists, Feb 2011), Beatus Vir, Lasciatmi morire
Mozart – Requiem
Palestrina – Missa Papae Marcelli
Roxanna Panufnik – Love endureth
Parry – I was glad, Songs of Farewell
Arvo Pärt – Nunc Dimittis, Seven Magnificat Antiphons
Sheena Phillips – Song of Sorrow: a lament for Aleppo
John Pickard – Magnificat (world premiere 2012)
Poulenc – O Magnum Mysterium
Kim Porter – Nocturne
Jan Sandström – Across the bridge of hope
Schűtz – Jauchzet dem Herrn
Shakespeare settings by Paul Mealor, Huw Watkins, Jaakko Mäntyjärvi, Bernstein & Martin
Nigel Short – The Dying Soldier
Giles Swayne – Magnificat
Tallis – Motets
Edward Torikian – Yal asmar ellon
Vivaldi – Gloria(s) RV588 and 589
Walton – Magnificat and Nunc Dimitis, Jubilate Deo
Whitacre – Sleep, Like a Lily, Lux Aurumque
Plus a wide range of church music for Cathedral services, carols, part-songs (e.g. English Romantic Part-songs OUP), pop and folk song arrangements (e.g. In the Mood book OUP), madrigals (e.g. Oxford Book of English Madrigals) and motets (e.g. European Sacred Music).
Details of every piece of music sung are kept in the choir database going back to 1961.