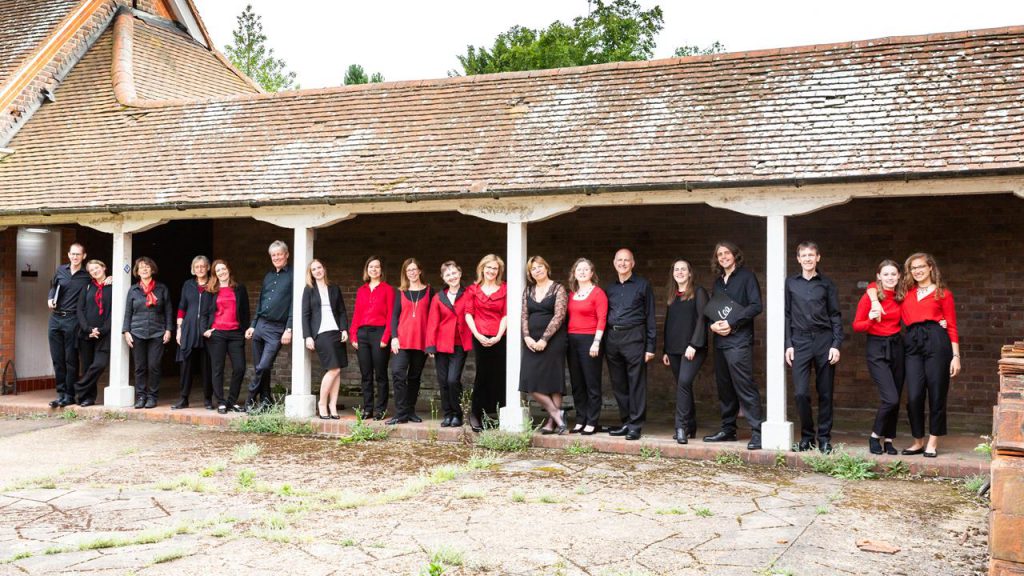 We are a Harpenden-based choir of 30 singers looking to bring in new members to sing eclectic repertoire with our new musical director.
If you love the idea of singing with a friendly, dedicated chamber choir, come and join us.
Repertoire: Serious and not-so-serious, sacred and secular, ancient and modern, exploration of Ben Kirk's passion for Baltic choral music.
Recruiting: Permanent singers and new recruits to our highly successful interns scheme, which helps promising student musicians broaden their choral experience.
If you are interested in joining the Lea Singers, please email [email protected]
Auditions
We invite potential permanent new singers to join us for a couple of rehearsals, to give them a chance to get a feel for the choir and decide whether we are right for them. All singers are expected to have previous choral experience and reasonable sight-reading skills. Auditions are taken by the choir's conductor. Candidates will be asked to sing a piece of music of their choice, and to complete sight reading and aural tests.
Rehearsals
We rehearse on Wednesday evenings 7.30-10.00pm in the Old Library of St. George's School, Harpenden during school terms, including during the half-term holidays. map
Interns scheme
The Leas also offer internships for talented teenage singers from local schools and other singers who might otherwise be put off by needing to pay an annual subscription, which give them the opportunity to sing with us for a year free of charge. The scheme has helped many talented local singers build their musical experience.
2022 – Katie McDonagh (alto)
2021 – Jasmine Bending (soprano), Annabel Astridge (alto)
2018 – Ellie Astridge (soprano), Katie Sutton (soprano), Ruby Thorne
2017 – William Brown (tenor), Jenny Frost (soprano), Rosie Harrison (alto), Phoebe Wakefield (soprano)
2016 – Niamh Shepherd (soprano)
2015 – Izzi Blain (soprano), Shauna Masterson (soprano), Mark Burrell (bass), Chris Burrett (bass).
2014 – Maisie James (soprano), Cecilia Young (soprano), Felicity Margeson (soprano), Jeremy Fisher (tenor), Mark Wilson (baritone).
2013 – Jonathan Burrett (tenor), Tim Wallis (tenor), Julian Windram (bass)
2012 – Hannah Bennett (soprano), Nina Vinther (soprano)
2011 – Bethany McLeish (soprano), Rob Wallis (tenor), Fergus O'Neil (bass)
2010 – Hugo Beardsall (tenor)
Jenny Frost
"I was an intern with The Lea Singers for the 2017-18 season. I loved working on so much varied repertoire from many different genres and time periods, with such a supportive and fund group of singers. I am now studying Modern and Medieval Languages at Selwyn College, Cambridge, and I intend to keep singing seriously throughout my studies and beyond."
Hugo Beardsall
"My first really clear musical memory was when I was seven and joined the St Albans Cathedral Choir. I think it dawned on me that I could actually sing when I was asked to sing the treble solo in Elijah in Westminster Cathedral at the age of 12. On my iPod I have everything from RnB to dance music, with some folk and classical thrown in for good measure. I think exam revision goes really well with heavy rock. Leas highlights? My internship has helped me become inspired by singing again."
Rob Wallis
"The Lea Singers are some of the most musically able and welcoming people I have ever sung with. Although I have many good memories singing with them, my favourite has to be the weekend trip to Durham Cathedral. The music was incredible, particularly Finzi's Lo, the Full Final Sacrifice, but the most memorable thing was the incredible setting of the Cathedral. The masterful playing of James Sherlock on an organ, loud enough to be heard in Harpenden, is something that will stay with me for a long time. I would recommend the internship scheme to anyone."
Bethany McLeish
"I've just finished my GCSEs at Stopsley High School in Luton, and plan to continue my music studies at sixth form college. I take part in many music groups, including the Luton Youth Jazz Orchestra and Youth Cantores. I would love to study music and keep it throughout my life, either as a profession or a hobby. Most memorable Lea Singers moment? Singing Finzi at Durham Cathedral in April. It was so magical! Best thing about being an intern in Leas? Everyone is so lovely! I've met loads of new people and gained a more professional experience of singing in a choir. I have learned so much."
Fergus O'Neil
"The best thing about singing in a choir is how every little thing comes together and you're left with a great sounding piece of music for the most part! Some things go wrong but you can work it out, and you meet some great people. It's surprising just what a small world the singing community is. As well as the Lea Singers, I'm currently singing in the Abbey Singers at St Albans Abbey. In my opinion the best bit about the Lea Singers is the people. Like with any choir, it doesn't matter how good everyone is individually, if they don't gel together then it won't work. In the Lea Singers, everyone is friendly and I believe it is reflected in the way we sing."
Hannah Bennett
"I have recently finished my A-Level studies at Luton Sixth Form College and will be taking a gap year before further music studies at Manchester or Leeds University. I will also be auditioning for conservatoires in the autumn. I have sung with various groups and currently with the Luton Youth Cantores and Bedfordshire Youth Opera for the past three summers. I intend to join many more ensembles to gain valuable experience during my gap year. I am very excited to join the Lea Singers and the challenges this will bring."
Nina Vinther
"I am 14 years old and have loved singing for as long as I can remember. When I started junior school I auditioned for the St Albans Abbey Girls' Choir. I couldn't even read music at that point, but luckily I was accepted and have had seven fantastic years with that Choir. It will be really strange to leave, as it has been such a big part of my routine, but at least I won't have to be at morning practice at 7.30am anymore! I have singing and trombone lessons at school, so music keeps me very busy. I was very excited when I found out that I have an Internship with the Lea Singers. I was at the Leas Spring Harmony concert in March, which I loved and thought the singing was inspirational, so I hope I can work well with everyone and contribute to this sound."